HEALTHY LUNCH CAFE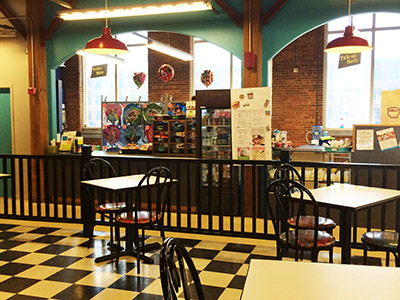 Now Serving More Healthy Lunch Options in our Cafe!
Imajine That is happy to announce our new partnership with Fresh Beginnings. Fresh Beginnings only uses the highest quality organic produce, grains, and herbs in all of their meals. Our cheddar cheese comes from Pineland Farms- a local Maine farm that uses pasture raised cows, and is not treated with artificial growth hormone or antibiotics. They prepare each meal with nutrition at the forefront, and add many puréed vegetables for added nutrients.
Starting April 6, 2015 you will find Imajine That serving new food items provided by Fresh Beginnings. We are excited to offer all of our members, customers and friends food that is not only healthy for you and your child, but also tastes great! We understand the importance of healthy eating, and hope you enjoy these new items. Visit our cafe to try these great new meals. Don't forget to tell us what you think of them!
For more information on Fresh Beginnings...