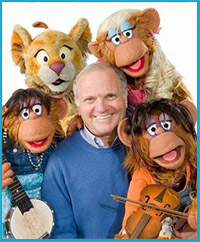 Christopher Cerf
Christopher Cerf
is an American author, composer-lyricist, voice actor, and record and television producer. He is known for his musical contributions to
Sesame Street,
for co-creating and co-producing the award-winning PBS literacy education television program
Between the Lions,
and for his humorous articles and books.

Since its first season in 1970, Cerf has played a significant role in the creation and production of the Sesame Street television program, most notably as a regular contributor of music and lyrics, and as the producer of many of its music albums. In the process, he has won two Grammy Awards and three Emmy Awards for songwriting and music production. Since writing and performing his first song for Sesame Street, "Count It Higher" (1973) in Season 5, Cerf has written or co-written over 200 songs featured on the program, including "Put Down the Duckie", "The Word Is No", "Dance Myself to Sleep", "Monster in the Mirror", and parody songs as "Born To Add", "Letter B", "Wet Paint", and "Furry Happy Monsters". Cerf also played a pivotal role in the ongoing funding of Sesame Street, founding and serving as the original editor-in-chief of Sesame Workshop's books, records, and toys division.
In addition to his contributions to Sesame Street, Cerf's musical material has appeared on Saturday Night Live, The National Lampoon Radio Hour, The Electric Company, Square One Television, Between the Lions, and in numerous Muppet productions, and his songs have been performed by such stars as Paul Simon, Ray Charles, Johnny Cash, R.E.M., James Taylor, Tony Bennett, Dixie Chicks, Tracy Chapman, Carol Channing, Randy Travis, The Four Tops, Melissa Etheridge, Smokey Robinson, Bonnie Raitt, Wynton Marsalis, Little Richard, B.B. King, Jimmy Buffett, Bart Simpson, and the Metropolitan Opera's José Carreras—not to mention the blond, curly-haired Muppet character from Sesame Street who is his namesake and the lead singer of the rock group "Chrissy and the Alphabeats."
Before joining Sesame Street, Cerf spent eight years as a senior editor at Random House (co-founded by his father in 1927), where he worked with such diverse authors as George Plimpton, Andy Warhol, Abbie Hoffman, Ray Bradbury, Richard Fariña, and Dr. Seuss. In 1993, Cerf renewed his ties to Random House when he assumed the role of Chairman of the Modern Library's Board of Advisors.
One of Christopher Cerf's best-known projects was the editing and production of Marlo Thomas & Friends' Free To Be...A Family book, album and TV special. The book reached #1 on The New York Times bestseller list within a week of its publication in 1987, and the show received a prime-time Emmy as the year's outstanding children's special.
Cerf and Thomas recently collaborated again, co-editing and co-producing Thanks & Giving: All Year Long, a book and CD about generosity and sharing (and their polar opposites, selfishness and thoughtlessness). Royalties from the project, for which Thomas and Cerf won a 2006 Grammy Award, go to St. Jude Children's Research Hospital, founded by Thomas' father, Danny Thomas, in 1962.
Currently, Cerf serves as Executive Producer, and Music and Audio Producer, of Between the Lions, the children's literacy series that his company, Sirius Thinking, Ltd., created for PBS. Between the Lions has twice won the Television Critics' Award as the nation's outstanding children's television program, and, in its six seasons on the air, the show has amassed six Emmy Awards. (In 2006, Between the Lions was nominated for three more Emmys, including Outstanding Children's Show.) In two independent studies, conducted by the University of Kansas and Mississippi State University, the program has also demonstrated success in helping kids – including those at the highest risk of literacy failure – to learn how to read.
Along with Between the Lions, Cerf continues to cement his role in the history of children's educational programming by producing fun educational shows for children. Cerf is currently the co-Creator (with Norman Stiles and Louise Gikow), Executive Producer and Writer of the new PBS Kids show Lomax, the Hound of Music. The show, which debuted in the winter of 2008, is a new children's series featuring "a good-natured, melody-obsessed puppet pooch named Lomax, his fluffy feline sidekick Delta, and their human companion, Amy, on a tune-filled train ride crisscrossing the musical landscape of America. With the help - and full participation - of real kids on the train, on location, and the viewers at home, Lomax and his friends doggedly pursue their mutual passion: tracking down the wonderful songs that form the heart of our nation's diverse musical heritage."
Christopher Cerf is perhaps best known to the general public for his work as an author and satirist. In 1970, he helped launch the National Lampoon, serving as a Contributing Editor from its first issue until the mid-1970s, and in 1978, he co-conceived and co-edited with Tony Hendra, George Plimpton and Rusty Unger the journalistic parody Not the New York Times.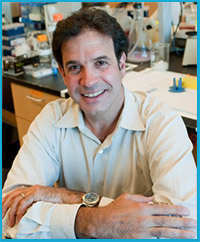 Rudolph Tanzi

New York Times Bestselling Author,
Joseph P. and Rose F. Kennedy Professor of Neurology at Harvard University,
Vice-Chair of Neurology and Director of the Genetics and Aging Research Unit at Massachusetts General Hospital
Dr. Rudolph Tanzi is the Joseph P. and Rose F. Kennedy Professor of Neurology at Harvard University, and Vice-Chair of Neurology and Director of the Genetics and Aging Research Unit at Massachusetts General Hospital.
Dr. Tanzi directs the Alzheimer's Genome Project and over the past three decades discovered many of the genesresponsible for Alzheimer's disease genes and other neurological disease genes including that responsible for Wilson's disease. He also developing several novel therapies for Alzheimer's, two of which are in clinical trials in patients.
Dr. Tanzi has co-authored over 475 research articles, including three of the top ten most cited AD papers and contributes regularly to Huffington Post and San Francisco Chronicle. He also co-authored the popular trade books "Decoding Darkness: The Search for the Genetic Causes of Alzheimer's Disease" and New York Times Bestseller, "Super Brain" with Dr. Deepak Chopra.  Dr. Tanzi also hosts the nationwide public television special, "Super Brain with Dr. Rudolph Tanzi" that explores new discoveries in neuroscience to maximize the potential of the human brain in practical and actionable ways.
Dr. Tanzi serves on dozens of editorial and scientific advisory boards, and as Chair of the Cure Alzheimer's Fund Research Consortium. He is the recipient of the two highest awards for Alzheimer's disease research: The Metropolitan Life Award and The Potamkin Prize and also honored by The Chopra Foundation's 2012 Rustum Roy Spirit Award for his exemplary work in the in science and serving humanity.  Dr. Tanzi was included on the list of the "Harvard 100 Most Influential Alumni" by 02138 Magazine, and was chosen by the Geoffrey Beene Foundation as a "Rock Star of Science". Most recently he was acknowledged byas one of the "World's Most Influential Scientific Minds", 2014" by Reuters-Thompson andone of the "Top 20 Translational Scientists, 2013" by Nature Biotechnology.
Described by The Boston Globe as the "rock star of science", Dr. Tanzi has appeared on The Tonight Show with Jay Leno.  His musical pursuits have lead him to perform the keyboards with Joe Perry, lead guitarist and co-founder of the legendary rock band, Aerosmith.as well as appearingon Aerosmith's 2012 album "Music From Another Dimension". Perry has described Tanzi'sblend of science and musicbrilliance as "the work ethic that Tanzi developed over years in the lab applies perfectly to his music". He's easily the best Hammond (organ) player I'd ever heard face to face."
More recently, Dr. Tanzi has teamed up with singer/song-writer, Chris Mann, to create music and music videos promoting public awareness of Alzheimer's disease.
Marilyn Adams

Dr. Marilyn Jager Adams
holds a Ph.D. from Brown University in cognitive psychology and developmental psychology and is internationally regarded for her research and applied work in the areas of cognition and education.
Dr. Adams chaired the Planning Committee and was a member of the Study Committee for the National Research Council's report, Preventing Reading Difficulties in Young Children (1998). She has been on the Planning or Steering Committee for National Assessment of Educational Progress (NAEP) Reading Assessment since 1992. She was on the Advisory Panel for the 2003 National Assessment of Adult Literacy (NAAL) and has been given responsibility with developing a vocabulary module for the 2013 NAAL. She is working on this task in collaboration with Dr. Kathryn Spoehr, of Brown University.
Dr. Adams was Senior Author of the Kindergarten and Grade 1 levels of Open Court Publishing Company's 1995 reading and writing program, "Collections for Young Scholars"; the research-documented efficacy of this program (Foorman et al., 1998) was arguably a major impetus for the focus on better classroom reading programs within the Reading First component of the No Child Left Behind Act.
Dr. Adams was the Principal Scientist of Phonics Instruction of Scholastic Inc.'s phonics intervention and foundational reading program
"System 44" which combines research-based phonics instruction with adaptive technology, and has been proven to improve the learning trajectories of the most at-risk students in Grades 3-12+.
Dr. Adams also designed the continuous scope and sequence for Scholastic Inc.'s K-2 foundational literacy program, "iRead"; which draws upon her expertise as an architect of the Common Core State Standards to ensure that every student leaves second grade on a predictable path to college and career readiness.
Other instructional resources of which Dr. Adams was principal author are "Phonemic Awareness in Young Children" (1997) for emergent and remedial reading students, CTB/McGraw-Hill's "Fox in a Box," an award-winning, standards-based literacy assessment kit, and "Odyssey: A Curriculum for Thinking," a research-validated program on thinking skills that was originally developed for the Republic of Venezuela.
Dr. Adams has served as Literacy Advisor for "Sesame Street" and has been Senior Advisor for Instruction for PBS's "Between the Lions" since its inception. She is currently a Visiting Professor in the Cognitive and Linguistic Sciences Department at Brown University and Chief Scientist at Soliloquy Learning, a software company which she co-founded in 2000 with the mission of harnessing automated speech recognition in service of affordable, effective one-on-one support to students in learning to read and reading to learn. Soliloquy Learning's software is called the Soliloquy Reading Assistant. The Reading Assistant software was acquired by Scientific Learning in 2008.
Dr. Adams was cited in the 2001 Politics of Education Yearbook as one of the five most influential people in the national reading policy arena (McDaniel et al., 2001). In 2013, Dr Adams published what is probably her most important book, "ABC Foundations For Young Children", in which she presented newly published proof that most American children finishing first-grade still can't name and write all of the alphabet letters. This national tragedy is most damaging to the children of the poor and of minority parents, and is easily remediable, as she gives plain advice for in the rest of the book.
---