COMPASS TRAINING AND DEVELOPMENT PROGRAMS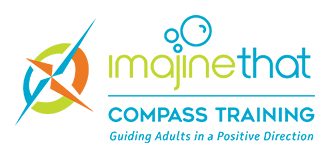 Imajine That Compass offers professional development for early education and out of school time educators across Massachusetts. We work with local and national trainers that provide various industry based trainings, education, workforce development training, coaching, mentoring and support to improve the skills and transform the perspectives of educators, centers and schools to support the needs of the children they educate. Our Compass trainings are engaging and relevant - based on current research and best practices. These trainings maximize your resources to expand the knowledge, skills, and tools you need to do your best and improve outcomes for children, strengthen your program and support families.
CURRENT OFFERINGS:
OPEN REGISTRATION TRAININGS – These are 2 hour trainings that are offered to anyone, sporadically throughout the year in various locations and on various topics. 
CUSTOMIZED ONSITE TRAININGS – We come to you! You pick the topic, location, length of training and we will match you with one of our expert facilitators to deliver a customized training that will meet the needs of your program.
CEU COURSES – With the ever changing requirements of the state regulations, Imajine That Compass wants to ensure we help you meet the professional development needs for your staff and program. Imajine That Compass now offers 5-hour CEU approved courses. We will come to you, and you can pick the time, location and topic and we will ensure our facilitator meets and exceeds your expectations.
Additional Support:
You can also partner with COMPASS for Parenting Education Programs. We support the needs of your parents by designing trainings that supports children and school-home partnerships.
For further information or questions on Imajine That Compass Trainings, please contact us at compass@imajinethat.com, or fill out a form by clicking on the link below, and we will be in touch!
CLICK HERE TO SEND US AN INQUIRY ABOUT OUR TRAINING PROGRAMS
I look forward to my next training, the facilitators make the trainings fun, enjoyable, and engaging!
"One of the highlights for my job here so far has been to connect with Imajine That and Suzanne their facilitator."
- ABC Preschool Educator
Facilitators are informative and charming which makes the training more engaging.