COMPASS TRAINING AND DEVELOPMENT PROGRAMS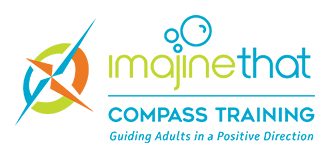 Imajine That Compass offers professional development for early education and out of school time educators across Massachusetts. We work with local and national trainers that provide various industry based trainings, education, workforce development training, coaching, mentoring and support to improve the skills and transform the perspectives of educators, centers and schools to support the needs of the children they educate. Our Compass trainings are engaging and relevant - based on current research and best practices. These trainings maximize your resources to expand the knowledge, skills, and tools you need to do your best and improve outcomes for children, strengthen your program and support families.
CURRENT OFFERINGS:
OPEN REGISTRATION TRAININGS – These are 2 hour trainings that are offered to anyone, sporadically throughout the year on various topics. These courses are offered in person and online.
CUSTOMIZED ONSITE TRAININGS – We come to you! You pick the topic, location, length of training and we will match you with one of our expert facilitators to deliver a customized training that will meet the needs of your program.
CEU COURSES – With the ever changing requirements of the state regulations, Imajine That Compass wants to ensure we help you meet the professional development needs for your staff and program. Imajine That Compass now offers 5-hour CEU approved courses. We will come to you, and you can pick the time, location and topic and we will ensure our facilitator meets and exceeds your expectations.
PARTNERS AND CLIENTS WE PROVIDE TRAINING FOR:
Catholic Charities Child Care
A Place to Grow
ABACUS Coordinator, Attleboro Public Schools
ABC Preschool Arlington
Angier After School
Arlington After School
Baker School Extended Day
Bedford Recreation Kids' Club
Best Friends
Blue Hill Montessori School
Boys & Girls Club of Greater Billerica
Bright Horizons
Bright Horizons at Landmark
Burlington Day Care and Preschool
Cambridge YMCA
Camp Fire North Shore
Catholic Charities
CBE Learning Center
Citizens for Citizens, Inc. After School
Commonwealth Children Center
Community Teamwork
Crayon Campus
Creative Corners
Crispus Attucks Children's Center
Danvers YMCA
Dedham Community Association, INC
Elizabeth Peabody House
Ellis After School
Expanding Horizons Children Center
Family ChildCare Association
First Parish Preschool
GLCAC LEAP Program
Goddard School
Good Shepherd School
Greater Lowell YMCA
Gregg House Infant/Toddler
Gregg House Preschool
Gregg Neighborhood House School-Age Program
Hamilton Wenham School Dept
Kid Connection Preschool
Kid Start
Kiddie Academy
Kids in Action
Kinder Prep Daycare
Launch and Learn
LCPA
Lena Park
LEO Early Head Start Stepping Stones Center
Little Corner School House
Little Ones Child Care
Little Treasures Schoolhouse
Longwood Medical Center ChildCare
Lynn Economic Opportunity
Magic Dragon Preschool
Magic Garden Children's Center
Magical Beginnings
Majestic Harbor Childrens Center
Malden Public Schools
Medfield AfterSchool Program
Meeting House
Melrose Daycare Center and PS
Melrose Y Academy
Milford Public Schools- Shining Star Early Childhood Center
My Little Dream Learning Center
My Weekday School
Nurtury - Early Childcare Centers
Old Colony YMCA
Park Street Kids Inc School
Pathways Headstart
Pierce School Extended Day
Pine Village Preschool
Primrose School of Mansfield
Quincy After School Program
Rainbow Kids Learning Center
Red Oak Summer Camp
Rise and Shine
Riverside Early Head Start
Robbins Childrens Program
Rogers-Pierce Children's Center
Roxbury Tenant of Harvard
Salem Community Child Care
Salem State University
Salem YMCA
Sandcastles Childcare and Learning Center
School Spring
Shattuck Childcare
Shining Star Early Childhood Center
SMOC
Somerville Public Schools
Springboard Schools
Tara Montessori School
The Magical Years
TSC Child Care
Village Preschool
Walpole CFCE
Wollaston Childcare Center
Wonder Years
Yal-Day-New Center
YMCA - Metro North
YMCA Boston
YMCA Melrose
YMCA Malden
YMCA North Shore
YMCA of Greater Boston
YMCA of Metro North
Youth EmpowerHouse
YWCA Malden
YWCA Newburyport
YWCA Northeastern
Additional Support:
You can also partner with COMPASS for Parenting Education Programs. We support the needs of your parents by designing trainings that supports children and school-home partnerships.
For further information or questions on Imajine That Compass Trainings, please contact us at compass@imajinethat.com, or fill out a form by clicking on the link below, and we will be in touch!
CLICK HERE TO SEND US AN INQUIRY ABOUT OUR TRAINING PROGRAMS
I look forward to my next training, the facilitators make the trainings fun, enjoyable, and engaging!
"One of the highlights for my job here so far has been to connect with Imajine That and Suzanne their facilitator."
- ABC Preschool Educator
Facilitators are informative and charming which makes the training more engaging.