AFTER SCHOOL PROGRAM
ENROLLMENT APPLICATION - 2020/2021 SCHOOL YEAR
CLICK HERE TO ENROLL
I am pleased to write this letter of recommendation for the after school program Imajine That. My child is 6 years old and attends the program 5 days a week. He finds his work to be both fun and educational. I personally find the program to be relevant and engaging. Their services help strengthen the students achievements and they offer a unique way of tutoring. Their style of interacting with the children is filled with warmth, welcoming and lots of fun, which makes the kids look forward to attending the afterschool program. I have no hesitation in enrolling my son into the program again next year; he has never been so excited to learn before.

Parent of Orchard Garden School Student
Imajine That After School programs are an extended day supplemental educational program for school age children. The goal for all Imajine That Extended Day programs is to support families needing after school care with a quality enrichment program that compliments the students' academic day and enhances creativity utilizing state-of-the-art interactive tools, technology and curriculum. Imajine That partners with the community and school district to support the development of the whole student – mind, body and spirit. Imajine That understands a child will succeed and work their hardest when he/she is motivated, engaged, felt heard and are in a safe nurturing environment.
Our After School Program Philosophy is to have our programming in an ideal venue for innovative play-based education, and contribute to the health and physical wellbeing of children as it occurs during a time of day when children are most likely to be sedentary if not given options. Our philosophy also includes not just a passion for the education and development of the children in our program, but also for all early childhood educators.
Program highlights:
Academic support
Interactive education
Customized curriculum
Specialized products and activities such as Math and Movement, Kinderlabs Robotics, and WGBH Ready to Learn apps
Perseverance skills and techniques
Critical thinking and problem solving skills
Skills for healthy, mutual relationships
Self regulation and emotional control
Communication and listening techniques
Youth leadership and autonomy
Engagement and excitement in learning
Teamwork skills
2020 - 2021 ENROLLMENT APPLICATION
AFTER SCHOOL LOCATIONS:
Lynn Area Locations:
KIPP Academy Lynn (age 5 - 13)
Boston Area Locations:
Blackstone Elementary School (age 5 - 13)
Grew School* (age 5 - 13)
KIPP Academy (age 5 - 13)
Lee Academy Pilot (age 5 - 13)

Martin L. King Jr. School (age 5 - 13)
Mildred School, Mattapan (age 5 - 13)
Mission Hill School, Jamaica Plain (age 5 - 13)

Orchard Gardens Elementary School (age 3 - 13)
UP Academy Holland (age 5 - 13)
Trotter (age 5 - 13)
Hours:
Boston Public Schools
Monday - Friday
School Dismissal - 6:00 PM
*5:30pm for Grew
We offer 5-day, 3-day and 2-day schedule options.
UP Academy Schools
Monday - Friday (except Wed.)
3:30 PM - 6:00 PM
Wednesday 12:30 - 6 PM
We also offer 5-day, 3-day and 2-day schedule options.
KIPP Boston
Monday - Thursday 4:30 pm - 6:00pm
Friday 12:30 pm - 6:00 pm
KIPP Lynn
Monday, Tuesday, Thursday, Friday 4:00pm - 6:00pm
Wednesday 1:00pm - 6:00pm
If you have any questions, please contact us:
Email: afterschool@imajinethat.com
Phone: 978-651-1314

Vouchers accepted.


FAMILY HANDBOOK
---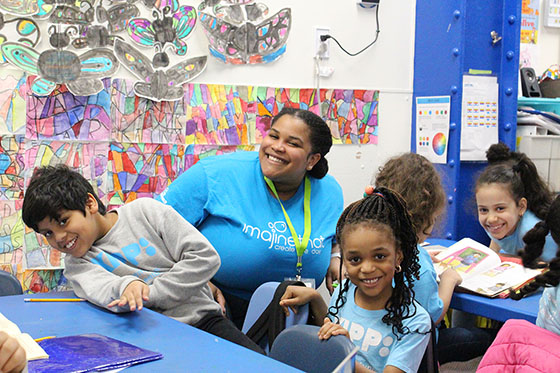 From the first day at UP Academy, I have been very pleased with the quality of programming of Imajine That. The teachers are very professional and have worked extremely hard to build relationships with students, families, and school staff. Many parents have come to me with great compliments about the program and I whole-heartedly agree with them all. When I interact with the classroom staff and leadership, I always noticed a genuine sense of care and love for our students, their families and the community. This genuine care and love is very evident when you step into one of the Imajine That classrooms. Imajine That is very much the ideal model for what we would like all of our after school programs to be.
Dean of Families & Community, UP Academy