COMPASS TRAINING AND DEVELOPMENT PROGRAMS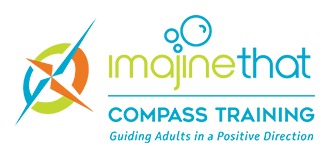 Imajine That Compass offers professional development for early education and out of school time educators across Massachusetts. We work with local and national trainers that provide various industry based trainings, education, workforce development training, coaching, mentoring and support to improve the skills and transform the perspectives of educators, centers and schools to support the needs of the children they educate. Our Compass trainings are engaging and relevant - based on current research and best practices. These trainings maximize your resources to expand the knowledge, skills, and tools you need to do your best and improve outcomes for children, strengthen your program and support families.
CURRENT OFFERINGS:
CUSTOMIZED ONSITE TRAININGS – We come to you! You pick the topic, location, length of training and we will match you with one of our expert facilitators to deliver a customized training that will meet the needs of your program. View training offerings...
OPEN REGISTRATION TRAININGS – We are offering our fun and educational Compass trainings again! Each month we will have 4-8 courses you can choose from for only $15 per training. Every one of the Compass trainings counts towards your yearly professional development hours required by EEC. We offer different trainings each month so its easy to register for a variety of topics to gain additional skills to implement in your classroom the next day! Check our Facebook page here to stay up to date on our monthly training calendar.
Additional Support:
For further information on how to schedule your Imajine That Compass Trainings, please fill out our form by clicking on the link below, and we will be in touch! This will help us get an idea of what you are looking for so we can co-customize your trainings.
MORE INFORMATION FORM
I look forward to my next training, the facilitators make the trainings fun, enjoyable, and engaging!
"One of the highlights for my job here so far has been to connect with Imajine That and Suzanne their facilitator."
- ABC Preschool Educator
Facilitators are informative and charming which makes the training more engaging.