SUMMER ENRICHMENT PROGRAM
SUMMER ACADEMY OVERVIEW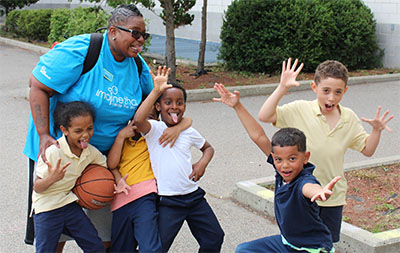 Imajine That has created a Summer Academy for students in K0-5th grade. The Imajine That Summer Academy is a licensed program from the Department of Early Education and Care. The goal for all Imajine That Summer Camp programs is to support families needing Summer Camp care with a quality enrichment program that compliments the students' academic day and enhances creativity utilizing state-of-the-art interactive tools, technology and curriculum. Imajine That partners with the community and school district to not only support the academic goals and achievements for the students, but also support the development of the whole student – mind, body and spirit. Imajine That understands a child will succeed and work their hardest when he/she is motivated, engaged, felt heard and are in a safe nurturing environment.
During the Imajine That program, students will have the opportunity to not only enhance their academic skills, but also increase their social, emotional and interpersonal skills. Imajine That implements an interactive, educational and fun curriculum. This curriculum encompasses STEM, literacy, nutrition, sports, leadership, gross motor skills, and specialized activities.
SUMMER ACADEMY HIGHLIGHTS:
Continuing academic skills throughout the summer
Decrease summer slide that occurs
Interactive education
Customized curriculum
Specialized products and activities such as Math and Movement, Kinderlabs Robotics, and WGBH ready to Learn apps
Perseverance skills and techniques
Critical Thinking and problem solving skills
Skills for healthy, mutual relationships
Self regulation and emotion control
Communication and listening techniques
Youth leadership and autonomy
Engagement and excitement in learning
Teamwork skills
LOCATIONS:
KIPP ACADEMY BOSTON

KIPP ACADEMY LYNN

SCHEDULE:
HOURS: 8am - 6pm
DAYS: June 27 - August 19, 2022

Contact Us Today

E: summer@imajinethat.com
P: 978-651-1314
Did You Know?
We offer flexible schedules in the summer.
You can register for certain weeks or the whole 6 weeks.
We accept vouchers.
---
The teachers in my room have been great, and I have no complaints! I think my room has actually been cleaner since they've begun using it, because students sweep it every day. I'm happy to share my classroom with them!
Christopher Acone, UP Academy Teacher