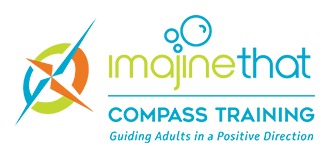 COMPASS OPEN REGISTRATION TRAINING
SORRY, WE ARE NO LONGER OFFERING OPEN REGISTRATION TRAINING
Please take a look at our other training offerings:
CUSTOMIZED ONSITE TRAININGS – We come to you! You pick the topic, location, length of training and we will match you with one of our expert facilitators to deliver a customized training that will meet the needs of your program.
CEU COURSES – With the ever changing requirements of the state regulations, Imajine That Compass wants to ensure we help you meet the professional development needs for your staff and program. Imajine That Compass now offers 5-hour CEU approved courses. We will come to you, and you can pick the time, location and topic and we will ensure our facilitator meets and exceeds your expectations.
Thank you for making these trainings relatable and fun! I learned a lot of great tips I will start using right away!
I love when the facilitators reference their experiences. Listening to her "real life" experiences is so meaningful.